Brinver has reached an high-performance standard in compliance with global regulations, through constant research and development of innovative chrome-free cycles for the aluminum treatment.
Offering a quality product and being able to respond effectively to specific requests: this is what means to Brinver design and develop the best solutions for painting.
The Quality Policy - ISO 9001: 2008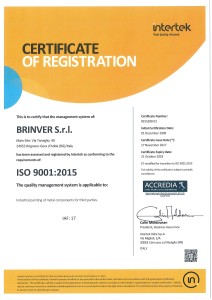 The search for quality essentially presupposes that an increasing quality would correspond a greater efficiency and therefore a better profitability over time.
Quality doesn't need to be a superstructure applied in a forced and temporary way, but a gradual and sustained growth over time, shared by the entire organization.
It also requires to improve the management operations and internal procedures in the parts that are identified as "weak", without unnecessary bureaucracy, but with simple, registered and verifiable methodologies.
Ultimately, the Company should follow a model which doesn't depend on the people, but rules and procedures are enriched with content and completeness.
In this logic people can change, without thereby produce imbalances in the organization.
The General Management is committed to pursue the full implementation and the continuous evolution of the quality management system in order to consolidate and improve the corporate image, through the commitment and professionalism of all staff.
The General Management assumes a dynamic role in the promotion and guidance of all activities concerning quality, through the dissemination of the above concepts a at all levels and, indeed, the verification of the results obtained.
In order for the company's Quality Policy we can fully realize, the General Management is committed to:
Be up to date, to ensure our customers a wide range of solutions, improving quality through an effective and efficient service;
Collaborate with customers to improve relations and to monitor performance;
Implementing and maintaining a Quality Management System in accordance with UNI EN ISO 9001:08 with a commitment to improve its own effectiveness and efficiency;
Engage and empower staff to the full implementation and continuous improvement of the QMS, as well as increasing customer satisfaction in accordance with the statutory and regulatory requirements;
Ask staff to become familiar with the documentation for the quality, implementation of the policies and procedures applicable to their work;
Periodically review the system of quality management, to ensure the maintenance of the suitability of the system and to introduce necessary changes and improvements;
Search for new markets to broaden product-offerings and customers portfolio;
Define measurable targets in order to achieve improved performance and business processes.
The General Management has appointed Ms Marzia Manenti as its Executive Board Representative and uses the Quality Assurance Manager to manage and control the quality system through the preparation of an annual report to the General Management on the status of implementation and effectiveness.
The General Management assumes a strategic role in the promotion and guidance of all activities affecting quality, through the dissemination at all levels of the above concepts and verification of the results obtained.